David Bowie: Our Guide from the Other Side
We have a wild story to share with you.
And yes, it's really about David Bowie speaking to us from the Beyond!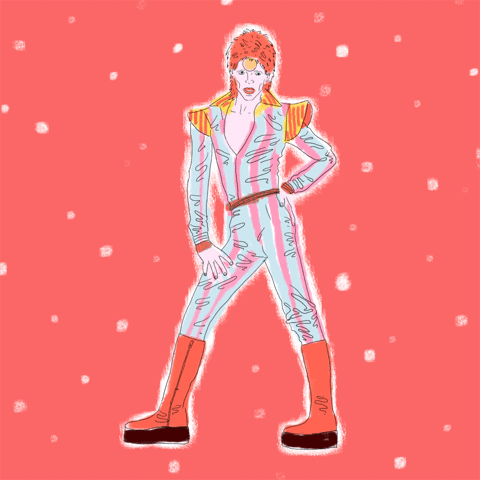 It goes like this:
Nicole walks into a Lovely meeting and her phone is playing music. 
I'm thinking "Cool, she's taking her jams wherever she goes like the old boombox days. Rock on." 📻
As we start our meeting Bowie's Black Star comes on. This is his last album, the one he made while he was facing death. It's wild and weird and bold and beautiful. 
"I love this album!" I say. And she's like, "what are you talking about?"
Nicole had no idea the music was playing and has never heard this album. 
Weird technical glitch right? Okay, maybe.
The next week it happens again... her phone starts playing Black Star at the start of our meeting.
Bowie is getting bold. We choose not to call it an accident.
But he's only just getting our attention.
That night, while Nicole is doing some ladybug graphic design work, this template shows up on her computer, unprompted: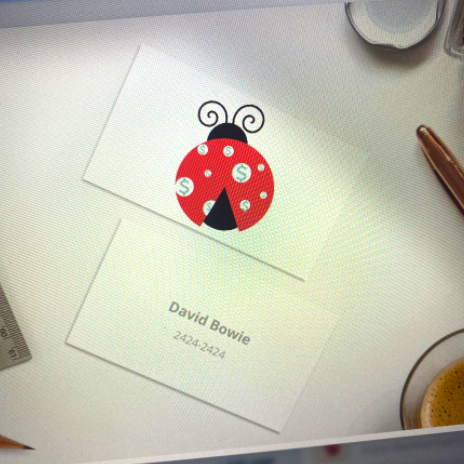 [image description: a business card with David Bowie's phone number]
Nicole is used to getting messages like this. She's learned to trust these messages for what they really are. But, our Egos can be quick to call events like this a coincidence. "There's got to be some explanation", it tells us.
But if you are looking for an explanation, we propose this: 
The Guides are known to use any and all of the symbols around us to get our attention. Sometimes in creative and surprising ways.
So what do we do when Bowie gives us his phone number? We call him, of course!
Nicole dials and they have a chat. For reals! Ground control to Major Tom!
She tunes in and we learn that he is with us to encourage us to FULLY EXPRESS ourselves and to GO BIG. He reflects that in his life, he did a lot of this but from the other side he now sees that he could have gone even further (which just seems hard to believe, really). 
If Bowie is an example of someone holding back, then we all have a lot of letting loose to do!
Now here is the most important part:
Now that you've read this,YOU are a part of this story
How could this be a message for you as well?
Start paying attention to moments when Bowie or another Guide starts showing up for you now, too!
---
Want to learn how to call David Bowie like Nicole did? Or at least how to tune into the signs and symbols of the Guides around you? 
You can start with Nicole's  course, which offers a series of lessons and meditations that allow you to practice and strengthen your connection to the Language of the Guides. 
Learn more about Accessing Your Soul
And it just so happens that you can try out the course preview for FREE, along with many other FREE offerings that you can find on our Membership site. 
Love,
Adrienne, Nicole & Ziggy Stardust 
Want to follow us on Facebook, Instagram and Pinterest? You can find us @TheLovelinessnet